Ever have a passion you want to share with others, but just don't know how to build a website?
Okay… You do want to know – right? In one word - Site Build It!

And in more than one word if your not in a hurry – we invite to read our story...
Sherrill and I love cruising and love people and love other cultures.
Cruise vacations, and in fact, travel in general, is our passion and our careers – for over thirty years!
My first cruise vacation was a holiday against my will. I had worked very long days and weekends for a year and wanted to drill myself like a tent peg into the beach in Hawaii for 7 days and do nothing.
I had a very persistent and wonderful travel agent who insisted I take a cruise. She told me that "7 days on a ship" is like a "3 week holiday". I protested the cost, the rumored boredom, the lack of activity, the motion discomfort, but to no avail.
She won – I lost and off I went for a 7-day cruise of the Mexican Riviera.
As I approached the ship at it pier in Los Angeles, the butterflies were at least flying in formation in my tummy!
Three days after our departure I was so enthralled with the cruise experience I booked another for the coming New Year. And then another and then another and then another! This from a man who spent 15 land vacations in Hawaii!
Suddenly I realized I wanted to be part of this industry and departed my job in favor of opening my own cruise only travel agency.
My mission? To enroll as many people in cruising as I could possibly find! I would offer service unparalleled for a travel agency and I would treat our clients like family.
I was so passionate I earned the nickname "Cruise Evangelist". I was invited to many Inaugural Cruises of new build ships and authored a monthly cruise column for a major newspaper. And yes – I even met my wife on board a ship!
I tell you this not to brag but to convince you that inside each of us is a knowledge of something that ignites our passion!
I sold my agency many years later to be with my wife. The passion for cruising was still burning inside! I still wanted to provide folks with all they needed to discover "You Haven't Lived until You've Cruised"!
And equally as important – we wanted to create a way of life for ourselves that allowed us the freedom and finances to indulge our passion for cruise vacations.
How to do that was the big question!
We talked to many people about using the Internet to get our message out. But as with many folks, our knowledge of computers and website building was almost non-existent.
We investigated many programs (which seemed so technical) and many cheap web-hosting schemes… All of which led us to conclude that short of hiring professionals – we were not going to get our passion to the 'net'! What a disappointment!
Another burning issue in our minds was what if we build it and nobody comes? Being on the internet is all about attracting visitors with quality content that is relevant and of interest – your passion must shine through! (By the way it doesn't matter if your passion is cruise ships or puppy dogs… you just need the passion)!
That led to a whole investigation of SEO (Search Engine Optimization) and even more discouragement. There must be as many people offering advice on search engines, as there are websites. We were even more confused and almost discouraged.
Along came the good Doctor...
One day while continuing my research - I came across a company call SiteSell run by a prominent Canadian physician, Dr. Ken Evoy.
This man was preaching an entirely different approach to taking what you are passionate about and bringing it to the Internet with great results.
This may all sound a bit dramatic, but discovering Ken Evoy was a turning point in our lives.
We have no better way to describe SiteSell -besides mind-boggling!
We finally understood that the key to earning a living from a Web site is not by going out and learning HTML, graphic design or any other technical stuff (which as we mentioned already had us quite confused…)
The key is first and foremost the ability to WRITE words that can sell.
The concept was so powerful and genuine, yet simple and down-to-earth, that it left us panting for more.
We started receiving weekly newsletters from Dr. Ken Evoy, who had become sort of our internet Guru, and decided to invest in another one of his books called - Make Your Content Pre-Sell!
But the best was yet to come...
Make Your Site Sell! is considered by many to be the "bible" of selling on the Net. It covers every imaginable aspect of building a Web site that can really SELL. Again, written in Ken's down-to-earth, warm and friendly voice.
After experiencing the passion with Ken's first books and his regular email, I was gradually becoming more and more interested in it.
And then I was exposed to the "clincher"! Site Build It! SBI sells itself as:
all-in-one site-building
site-hosting and domain registration
and site-promoting suite of tools.
It supposedly eliminates all the confusing technical complexities and exhausting manual labor involved in building and promoting a site, and leaves you with the fun part – creating content.
Sounds like one heck of a product, but we admit that our inner skeptic voice wasn't ready to part with the few hundred dollars Site Build It! costs.
I wanted to - BUT - I had heard promises of great things before…
We wanted proof...
And Dr. Ken Evoy gave it to us in spades!
Having the proof that so many people have made a success of using Site Build it to achieve their dreams I felt even more comfortable.
Dr. Evoy even offers a RISK FREE trial! And he means it!
We also wanted to see stories of real people who had dreams like ours - make their dreams come true! This is what Ken calls the "special FREE prize inside the SBI box".

And finally, we wanted to make sure the process was non-technical, easy to follow and did not require us to be programmer's, HTML experts, search engine gurus or graphic artists…
Is it easy? – Yes! Don't confuse easy with "get rich quick or build it overnight". As my father always said "there is no free lunch"! Slow and easy was the way the tortoise beat the hare (and you can take that to the bank)!
SBI! builds businesses. Real ones. That takes some work. Yes, the SBI! tools do remove all the barriers, reducing the work and time required by 90%. But you have to supply the motivation.
If you can stack blocks - you can build a website with SiteBuildIt! No need to know HTML, Graphics, File Tranfer Protocols, or search engine optimization.
This step by step demo of how SBI works shows you in a nutshell how you can take your knowledge and life experience and develop it into an online source of income.
You do need to put your brain to work creating great content about your passion – the code and SiteBuildIt handles all optimization and formatting. You concentrate on your content, make it passionate and interesting and then like in "Field of Dreams" they will come and play ball on your field!
And not only do we have a traffic building product, a course in how to write to sell and a forum that offers friendly powerful advice and sharing… Dr. Evoy went one farther and created an affiliate program that offers financial benefits to Site Build It owners who refer prospects to this fantastic and credible product.
So that's our story...
...and now our passion is on the web...
generating income and allowing us to have fun, and live our dream with passion!
And after your research you will find that Ken Evoy is a man who walks his talk – under promises – AND OVER DELIVERS!
Don't take our word for it! Feel free to ask them tough questions! You will get honest thorough answers.
Look carefully at your passions, take Ken's advice and Make Your Words Sell and you too will be proud and satisfied to have your website say:

Have fun and be passionate - do what you love!
Best wishes,
---

PS. Want to get the full "insider's view?"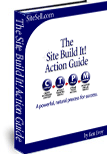 I have arranged with SiteSell.com for you to view free and with no obligation an actual copy of the SBI! Action Guide. It's the actual manual that SBI! owners use. You'll get a clear picture of how quick-and-easy SBI! makes it to execute all the profitable traffic-building and sales-generating strategies outlined in the guide... freeing you up to focus on your business!

Take advantage of the free look. See first-hand how the SBI! Total System works. Skim through the SBI! Action Guide and then decide.

Zero downside, terrific upside. My kind of risk/reward ratio!

SBI! Action Guide leads you step by step through the
CONTENT

TRAFFIC

PREsell

MONETIZE process.


---
Site Build It! makes the technology and complexity of Net marketing disappear. There's no need to learn HTML, FTP, or Web site design (but you can use your favorite HTML Editor or graphic software, if you wish). Search Engines?... Site Build It! takes care of all the fine points of Search Engine Optimization.

Bottom line...

Millions of small businesses fall prey to the "put up a site (or store) in 15 minutes" lure... and then waste a year and tens of thousands of dollars in advertising, in search of the quick profit.

It's the typical false, fast dream.

Build a successful site that your visitors and the Search Engines will love and get on with the rest of your business.

To put it simply...

Site Build It! delivers a solid, from-the-ground-up, ever-growing, momentum-building approach that flat-out WORKS.

View the SBI! Action Guide now and see for yourself.

I will not make a more important suggestion during 2006!

Site Build It! (SBI!)


---